Nissan Versa

Sedan Service Manual

Body exterior, doors, roof & vehicle security » Glass & window system (GW)

Rear door glass
Exploded View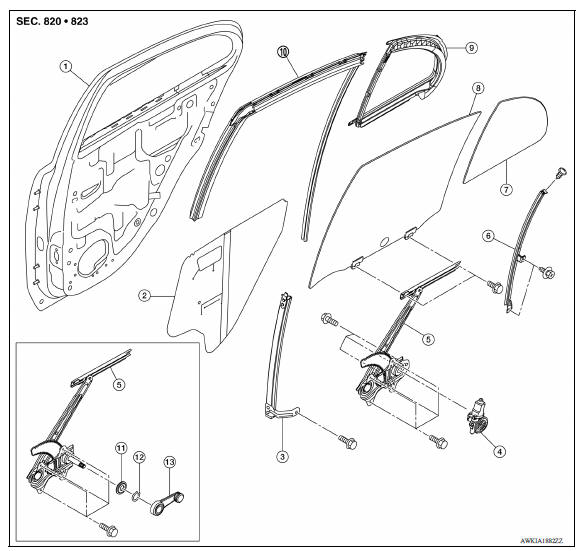 1. Rear door panel 2. Sealing screen 3. Rear door sash 4. Power window motor 5. Regulator assembly 6. Partition sash 7. Partition glass 8. Rear door glass 9. Partition weather-strip 10. Rear door glass run 11. Regulator seal (manual window) 12. Retaining clip (manual window) 13. Regulator handle (manual window)
Removal and Installation
REMOVAL
1. Fully open rear door glass.
2. Remove rear door finisher. Refer to INT "Removal and Installation".
3. Disconnect harness connector from rear door speaker.
4. Remove rear door sealing screen.
NOTE: Cut the butyl-tape so that some parts of the butyl-tape will remain on the sealing screen, if the sealing screen is reused.
5. Remove partition sash bolts and screw.
6. Remove partition sash.
Remove rear door glass run from partition sash.
Pull partition sash slightly and straight down.
From the upper side, slope partition sash toward the vehicle and then remove.
7. Operate the rear power window main switch or regulator handle (manual) to raise or lower the door window until the glass bolts (A) can be seen.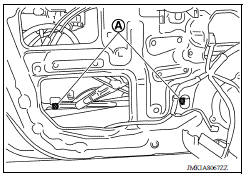 8. Remove rear door glass bolts.
9. Carefully pulling inward to remove the rear door glass.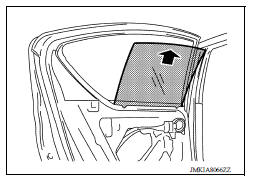 10. Remove partition glass.
1. Slide partition glass toward the direction of arrow 1.

2. Pull partition glass toward the direction of arrow 2 to remove.

3. Remove partition weather strip from the partition glass.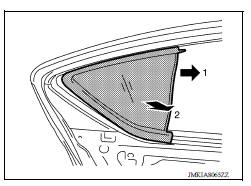 INSTALLATION
Installation is in the reverse order of removal.
Inspection and Adjustment
FITTING INSPECTION
Check that the glass fits securely into the sash groove.
Lower the glass slightly [approximately 10 to 20 mm (0.394 to 0.787 in)], and check that the clearance to the sash is parallel. Loosen the regulator bolts, guide rail bolts, and glass and guide rail bolts to correct the glass position if the clearance between the glass and sash is not parallel.
More about «Glass & window system (GW)»:
Rear door glass