Nissan Versa

Sedan Service Manual

Transmission & driveline » Clutch (CL) » Clutch fluid

Refilling
CAUTION: Do not spill clutch fluid onto painted surfaces. If fluid spills, wipe up immediately and wash the affected area with water.
1. Check that there is no foreign material in reservoir tank and then fill with new clutch fluid.
CAUTION: Do not reuse drained clutch fluid.
2. Connect a transparent vinyl hose to air bleeder of bleeding connector (1).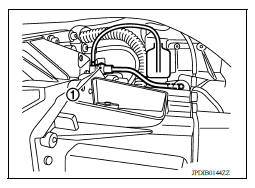 3. Press the lock pin (1) into the bleeding connector (2), and maintain the position.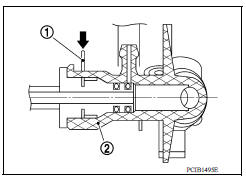 4. Slide clutch tube (1) for the specified distance (A) in the direction of the arrow (
) as shown.
(2) : Bleeding connector
Dimension (A) : 5 mm (0.20 in)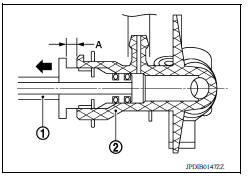 5. Slowly depress clutch pedal to the full stroke position and then release the pedal.
CAUTION: Clutch tube is under hydraulic pressure; do not allow the clutch tube to disconnect from the bleeding connector.
6. Repeat step 5 at intervals of 2 or 3 seconds until new clutch fluid is discharged.
CAUTION: Monitor clutch fluid level in reservoir tank so as not to empty the tank.
7. Return clutch tube and lock pin in their original positions while clutch pedal is depressed.
8. Perform the air bleeding. Refer to CL, "Air Bleeding".
More about «Clutch fluid»:
Refilling