Nissan Versa

Sedan Service Manual

Ventilation, heater & air conditioner » Heater & air conditioning control system (HAC)

Refrigerant pressure sensor
Removal and Installation for Refrigerant Pressure Sensor
REMOVAL
CAUTION:
Do not damage the condenser fins.
Perform lubricant return operation before each refrigeration system disassembly. However, if a large amount of refrigerant or lubricant is detected, do not perform lubricant return operation.

Refer to HA "Perform Oil Return Operation".
Move air guide aside.
Disconnect the harness connector from the refrigerant pressure sensor.
Remove the refrigerant pressure sensor (1) from the liquid tank on the condenser.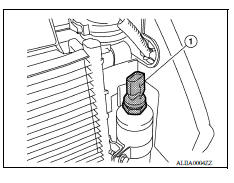 INSTALLATION
Installation is in the reverse order of removal.
CAUTION:
Replace O-ring with new one. Then apply compressor oil to them when installing.
Check for leakages when recharging refrigerant. Refer to HA "Leak Test".
More about «Heater & air conditioning control system (HAC)»:
Refrigerant pressure sensor
Categories
© 2017-2023 Copyright www.niveguide.com