Nissan Versa

Sedan Service Manual

Transmission & driveline » Front axle (FAX) » Front wheel hub and knuckle

Removal and Installation
REMOVAL
Remove the wheel and tire assembly using power tool. Refer to WT "Adjustment".
Remove wheel sensor and sensor harness. Refer to BRC "FRONT WHEEL SENSOR : Removal and Installation".
Remove brake caliper using power tool, leaving brake caliper hydraulic lines connected. Reposition brake caliper aside with wire. Refer to BR "BRAKE CALIPER ASSEMBLY : Exploded View". NOTE: Avoid depressing brake pedal while brake caliper is removed.
Put match
CAUTION:

Use paint for matching parts. Do not damage the disc rotor or wheel hub assembly.
Do not drop disc rotor.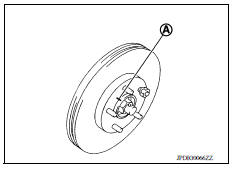 5. Remove and discard cotter pin, and then loosen wheel hub lock nut, using Tool (A).
Tool number : KV40104000 ( - )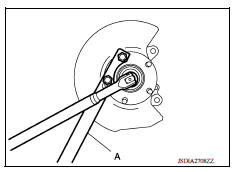 Separate the drive shaft from the wheel hub and bearing assembly by lightly tapping the end of the drive shaft using a suitable tool and a wood block. NOTE: Use suitable puller, if wheel hub and drive shaft cannot be separated after performing the above procedure.
Remove wheel hub lock nut.
Remove the nut and separate the steering outer socket from steering knuckle. Refer to ST "Removal and Installation".
Remove the nuts and bolts, then separate the steering knuckle from strut assembly. Refer to FSU "Removal and Installation".
Suspend the drive shaft with suitable wire.
CAUTION:

Do not place drive shaft joint at an extreme angle. Also be careful not to overextend slide joint.
Do not allow drive shaft to hang down without support for joint sub-assembly, shaft and the other parts.
Remove steering knuckle from transverse link.
Remove wheel studs (1) from wheel hub, using the suitable tool (A).
CAUTION:

Remove stud only when necessary.
Do not hammer the wheel stud or damage to the wheel bearing may occur.
Pull the wheel stud straight out to avoid damaging the stud.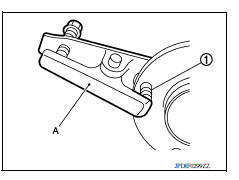 INSTALLATION
Installation is in the reverse order of the removal.
CAUTION:
During installation, do not damage the wheel bearing seal. If damage has occurred, replace wheel bearing with a new one.
Do not allow paint to adhere to the wheel bearing seal.
Check each mating surface for water and foreign matter. If there is any water or foreign matter, clean the mounting surface.
Position the stud (1) to the wheel hub flange. Place a washer (A) and nut (B) on the opposite end of the stud, tighten to press the stud into the wheel hub flange.
CAUTION:
Check that no clearance exists between wheel hub, and wheel stud after installation.
Do not reuse wheel stud.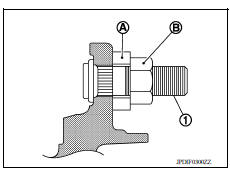 Molykote M77 quantity : 1.0 - 3.0 g (0.04 - 0.10 oz)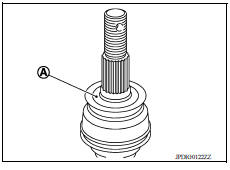 More about «Front wheel hub and knuckle»:
Removal and Installation
Categories
© 2017-2023 Copyright www.niveguide.com