Nissan Versa

sedan Owners Manual

Do-it-yourself » Windshield wiper blades

Replacing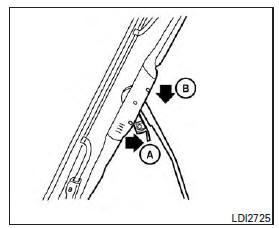 Replace the wiper blades if they are worn.
1. Lift the wiper arm away from the windshield.
2. Push and hold the release tab A , and then move the wiper blade down B the wiper arm to remove.
3. Remove the wiper blade.
4. Insert the new wiper blade onto the wiper arm until it clicks into place.
CAUTION
After wiper blade replacement, return the wiper arm to its original position; otherwise it may be damaged when the hood is opened.
Make sure the wiper blades contact the glass; otherwise the arms may be damaged from wind pressure.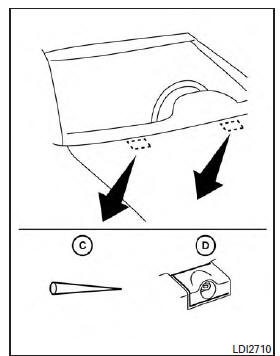 Be careful not to let anything get into the washer nozzle D . This may cause clogging or improper windshield-washer operation. If something gets into the nozzle, remove it with a needle or small pin
More about «Windshield wiper blades»:
Replacing