Nissan Versa

Sedan Service Manual

Maintenance (MA) » Engine maintenance

Spark plug
SPARK PLUG : Exploded View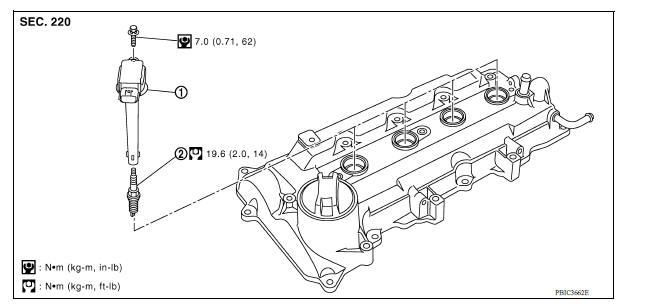 1. Ignition coil 2. Spark plug
SPARK PLUG : Removal and Installation
REMOVAL
1. Remove ignition coil. Refer to EM "Removal and Installation".
CAUTION: Do not drop or shock ignition coil.
2. Remove spark plug using a suitable tool.
Diameter (a) : 14 mm (0.55 in)
CAUTION: Do not drop or shock spark plug.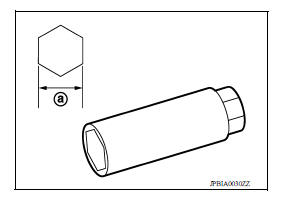 INSPECTION AFTER REMOVAL
CAUTION: Do not use a wire brush for cleaning.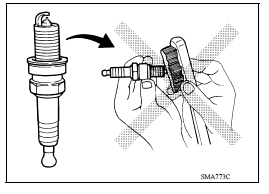 If the spark plug tip is covered with carbon, a spark plug cleaner may be used.
Cleaner air pressure : Less than 588 kPa (6 kg/cm2, 85 psi)

Cleaning time : Less than 20 seconds
Checking and adjusting spark plug gap is not required between change intervals. Do not adjust the gap; replace the spark plug as necessary if out of specification.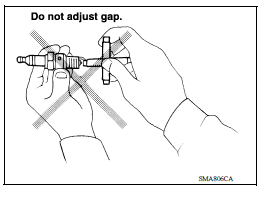 INSTALLATION
Installation is in the reverse order of removal.
CAUTION: Do not drop or shock the spark plug.

*: Always check with the Parts Department for the latest parts information.
EVAP VAPOR LINES
EVAP VAPOR LINES : Inspection
1. Visually inspect EVAP vapor lines for improper attachment and for cracks, damage, loose connections, chafing and deterioration.
2. Inspect fuel tank filler cap vacuum relief valve for clogging, sticking, etc. Refer to FL "Inspection".
More about «Engine maintenance»:
Spark plug