Nissan Versa

Sedan Service Manual

Engine » Engine mechanical (EM)

Valve oil seal
VALVE OIL SEAL : Removal and Installation
REMOVAL
Remove camshafts.
Remove valve lifters.
Rotate crankshaft, and set piston with valve oil seal to be removed to TDC. This will prevent the valve from dropping into cylinder.
CAUTION:
When rotating crankshaft, be careful to avoid scarring front cover with timing chain.
4. Remove valve collet.
Compress valve spring with Tool (A). Remove valve collet with a magnet hand (B).
CAUTION:
Be careful not to damage valve lifter holes.
Tool number : KV10116200 (J26336B)
: KV10115900 (J2633620)
: KV10109220 ( - )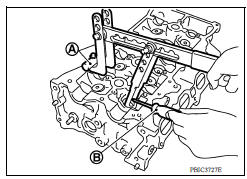 Remove valve spring retainer, valve spring and valve spring seat.
Remove valve oil seal with Tool (A).
Tool number : KV10107902 (J38959)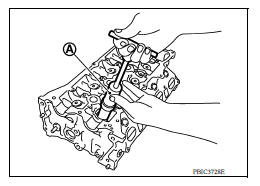 INSTALLATION
Apply new engine oil to valve oil seal joint surface and seal lip.
Press in valve oil seal to the height "H" shown with Tool (A).
Height "H" : 13.2 13.8 mm (0.520 0.543 in)
Tool number : KV10115600 (J38958)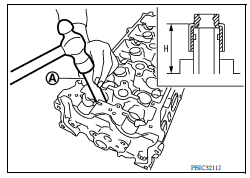 3. Installation of the remaining components is in the reverse order of removal.
More about «Engine mechanical (EM)»:
Valve oil seal