Nissan Versa

Sedan Service Manual

Brakes » Brake control system (BRC)

VDC/TCS/ABS
Symptom Table
If ABS warning lamp and SLIP indicator lamp turn ON, perform self-diagnosis.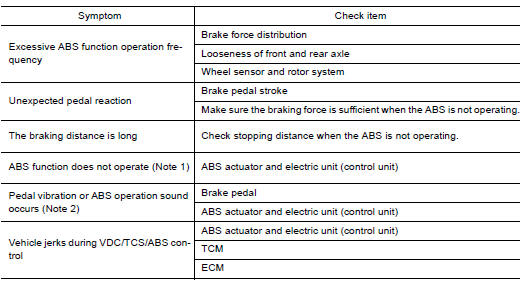 NOTE:
The ABS does not operate when the speed is 10 km/h (6 MPH) or less.
Under the following conditions, ABS is activated and vibration is felt when brake pedal is lightly depressed (just place a foot on it).
However, this is normal.
When shifting gears
When driving on slippery road
During cornering at high speed
When passing over bumps or grooves [approximately 50 mm (1.97 in) or more]
When pulling away just after starting engine [at approximately 10 km/h (6 MPH) or higher]
More about «Brake control system (BRC)»:
VDC/TCS/ABS
Categories
© 2017-2023 Copyright www.niveguide.com