Nissan Versa

Sedan Service Manual

Brakes » Brake system (BR) » Brake fluid

Inspection
BRAKE FLUID LEVEL
Check that the fluid level in the reservoir tank is within the specified range between the MAX - MIN lines as shown.
Visually check for any brake fluid leakage around the reservoir tank.
Check the brake system for any leakage if the fluid level is extremely low (lower than MIN).
Check the brake system for fluid leakage if the warning lamp remains illuminated even after the parking brake is released.
Check the reservoir tank for the mixing of foreign matter (e.g. dust) and oils other than brake fluid.
BRAKE LINE
Check brake line (pipes and hoses) for cracks, deterioration or other damage. Replace any damaged parts.
Check for brake fluid leaks by fully depressing brake pedal while engine is running.
CAUTION: Retighten the applicable connection to the specified torque and repair any abnormal (damaged, worn or deformed) part if any brake fluid leaks are present.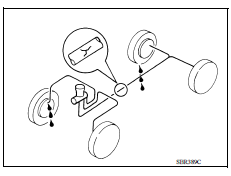 Draining
CAUTION:
Do not spill or splash brake fluid on painted surfaces. Brake fluid may seriously damage paint. Wipe it off immediately and wash with water if it gets on a painted surface.
Turn the ignition switch OFF and disconnect battery negative terminal before performing work.
Connect a vinyl tube to the bleed valve.
Depress the brake pedal and loosen the bleeder valve to gradually discharge brake fluid.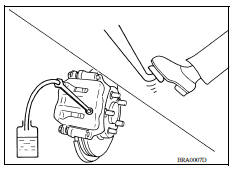 More about «Brake fluid»:
Inspection
Categories
© 2017-2023 Copyright www.niveguide.com