Nissan Versa

Sedan Service Manual

Engine » Engine mechanical (EM) » Drive belt

Inspection
Inspection should be done only when engine is cold or over 30 minutes after the engine is stopped.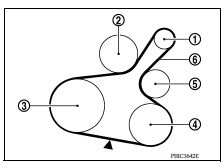 (1) : Generator

(2) : Water pump

(3) : Crankshaft pulley

(4) : A/C compressor (with A/C models): Idler pulley (without A/C models)

(5) : Idler pulley

(6) : Drive belt
Visually check belt for wear, damage, and cracks on inside and edges.
Turn crankshaft pulley clockwise twice, and check that the tension on all pulleys equalizes before testing.
When measuring deflection, apply 98.1 N (10 kg, 22 lb) at the ( ) marked point.
Measure the belt tension and frequency with acoustic tension gauge at the ( ) marked point.
CAUTION:
When the tension and frequency are measured, the acoustic tension gauge should be used.
When checking immediately after installation, first adjust it to the specified value. Then, after turning crankshaft two turns or more, readjust to the specified value to avoid variation in deflection between pulleys.
More about «Drive belt»:
Inspection
Categories
© 2017-2023 Copyright www.niveguide.com