Nissan Versa

Sedan Service Manual

Electrical & power control » LAN System (LAN) » Precautions

Precautions for Harness Repair
Solder the repaired area and wrap tape around the soldered area.
NOTE: A fray of twisted lines must be within 110 mm (4.33 in).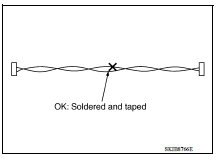 Bypass connection is never allowed at the repaired area.
NOTE: Bypass connection may cause CAN communication error. The spliced wire becomes separated and the characteristics of twisted line are lost.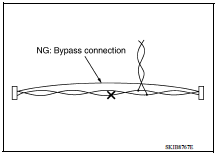 Replace the applicable harness as an assembly if error is detected on the shield lines of CAN communication line.
SYSTEM DESCRIPTION
COMPONENT PARTS
Component Parts Location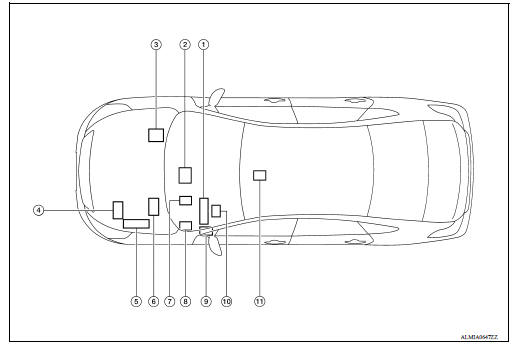 1. Combination meter
- M82: TYPE A

- M24: TYPE B
2. AV control unit M70
3. ABS actuator and electric unit (control unit) E33
4. TCM
- F44: CVT models

- F57: A/T models
5. ECM E16
6. IPDM E/R E46
7. EPS control unit M53
8. BCM
- M97: Models with Intelligent Key system

- M18: Models without Intelligent Key system
9. Data link connector M22
10. Steering angle sensor M64
11. Air bag diagnosis sensor unit M35
SYSTEM
More about «Precautions»:
Precautions for Harness Repair