Nissan Versa

Sedan Service Manual

Brakes » Brake control system (BRC) » VDC/TCS/ABS

VDC/TCS/ABS : TCS Function
SYSTEM DIAGRAM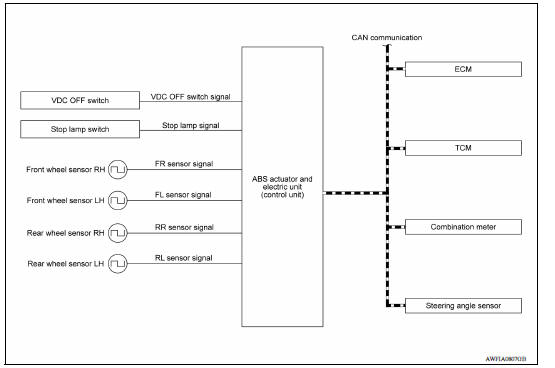 SYSTEM DESCRIPTION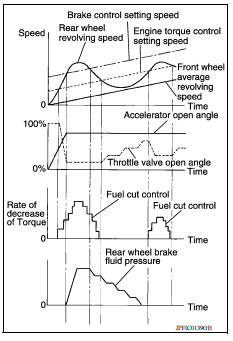 Wheel spin status of drive wheel is detected by wheel sensor of 4 wheels. Engine output and transmission shift status is controlled so that slip rate of drive wheels is in appropriate level. When wheel spin occurs on drive wheel, ABS actuator and electric unit (control unit) perform brake force control of LH and RH drive wheels (apply brake force by increasing brake fluid pressure of drive wheel) and decrease engine torque by engine torque control. Wheel spin amount decreases. Engine torque is controlled to appropriate level.
TCS function can be switched to non-operational status (OFF) by operating VDC OFF switch. In this case, VDC OFF indicator lamp turns ON.
SLIP indicator lamp blinks while TCS function is in operation and indicates to the driver that the function is in operation.
CONSULT can be used to diagnose the system.
Fail-safe function is adopted. When a malfunction occurs in TCS function, the control is suspended for VDC function and TCS function.

However, ABS function and EBD function operate normally.

Refer to BRC "Fail-safe".
INPUT SIGNAL AND OUTPUT SIGNAL
Major signal transmission between each unit via communication lines is shown in the following table.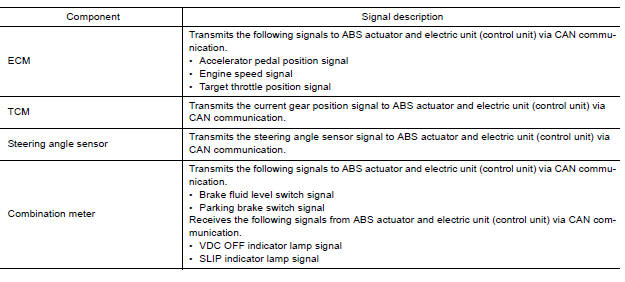 More about «VDC/TCS/ABS»:
VDC/TCS/ABS : TCS Function
Categories
© 2017-2023 Copyright www.niveguide.com