Nissan Versa

Sedan Service Manual

Driver controls » Exterior lighting system (EXL)

With daytime light system
WITH DAYTIME LIGHT SYSTEM : System Diagram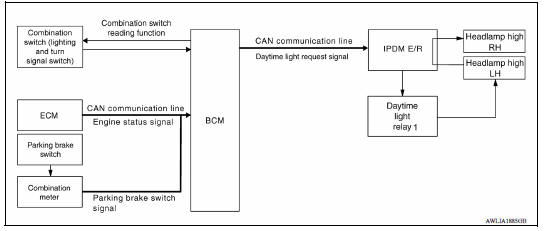 WITH DAYTIME LIGHT SYSTEM : System Description
The headlamp system is equipped with a daytime light relay 1 that activates the high beam headlamps at approximately half illumination whenever the engine is operating and the lighting switch is in the OFF position.
If the parking brake is applied before the engine is started the daytime lights will not be illuminated. The daytime lights will illuminate once the parking brake is released. With the lighting switch in the 2nd position the headlamps function the same as conventional light systems.
The BCM monitors inputs from the parking brake switch and the lighting switch to determine when to activate the daytime light system. The BCM sends a daytime light request to the IPDM E/R via the CAN communication lines.
The IPDM E/R grounds the daytime light relay 1 which in turn, provides power to the ground side of the LH high beam lamp. Power flows backward through the LH high beam lamp to the IPDM E/R, through fuse 35, fuse 34 and to the RH high beam lamp and on to ground. The high beam lamps are wired in series which causes them to illuminate at a reduced intensity.
More about «Exterior lighting system (EXL)»:
With daytime light system