Nissan Versa

Sedan Service Manual

Electrical & power control » LAN System (LAN) » Trouble diagnosis

Symptom When Error Occurs in CAN Communication System
In CAN communication system, multiple control units mutually transmit and receive signals. Each control unit cannot transmit and receive signals if any error occurs on CAN communication line. Under this condition, multiple control units related to the root cause malfunction or go into fail-safe mode.
ERROR EXAMPLE
NOTE: Each vehicle differs in symptom of each control unit under fail-safe mode and CAN communication line wiring.
Example: Main Line Between Data Link Connector and ABS Actuator and Electric Unit (Control Unit) Open Circuit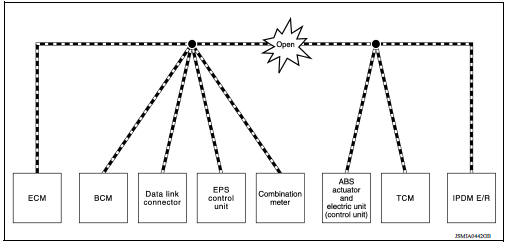 Example: TCM Branch Line Open Circuit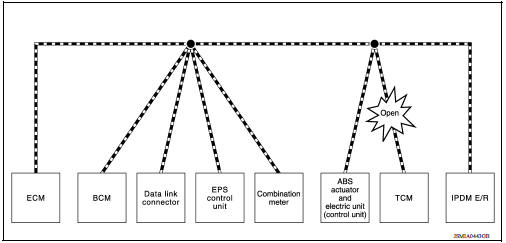 NOTE: The model (all control units on CAN communication system are Diag on CAN) cannot perform CAN diagnosis with CONSULT if the following error occurs. The error is judged by the symptom.

Example: Data Link Connector Branch Line Open Circuit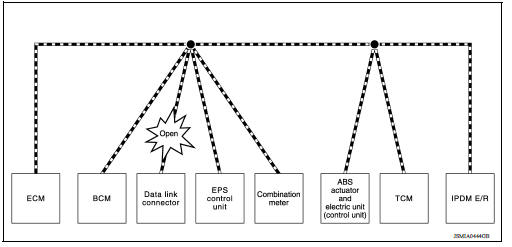 NOTE: When data link connector branch line is open, transmission and reception of CAN communication signals are not affected. Therefore, no symptoms occur. However, be sure to repair malfunctioning circuit.
Example: CAN-H, CAN-L Harness Short Circuit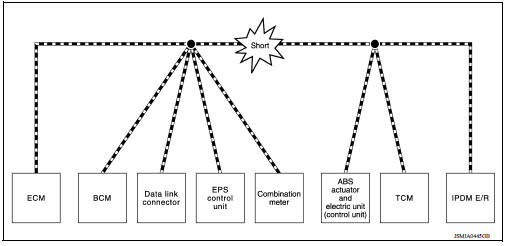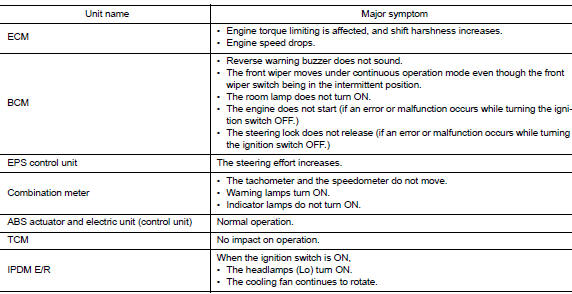 CAN Diagnosis with CONSULT
CAN diagnosis on CONSULT extracts the root cause by receiving the following information.
Response to the system call
Control unit diagnosis information
Self-diagnosis
CAN diagnostic support monitor
More about «Trouble diagnosis»:
Symptom When Error Occurs in CAN Communication System